Women in Experiment presents: Deep Listening: The Story of Pauline Oliveros
Fri, Nov 4, 7:30 pm – with Q&A and Reception
Sat, Nov 5, 2:00 pm – with Q&A (by donation)
Tickets at https://www.rosendaletheatre.org/
Join us for The Hudson Valley premier of director Daniel Weintraub's new feature-length film, Deep Listening: The Story of Pauline Oliveros, a documentary that traces the life and work of visionary composer, musician, teacher, technological innovator, and humanitarian Pauline Oliveros (1932–2016).
---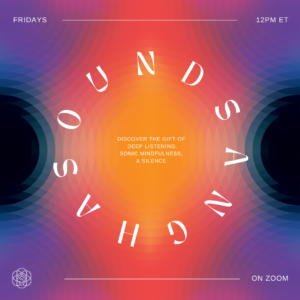 Sound Sangha
Fridays 12-12:45pm ET
Register at  http://soundoflistening.com/sangha for the weekly Zoom link
Michael Reiley, CDL community member, is hosting a weekly meditation group on Zoom. Topics include exploring the gateway of listening into the world of Mindfulness, and discussion around a topic at the intersection of meditation, sound, listening, awareness, and attention. The group will work with classic mindfulness-based meditation practices, as well as the work of Pauline Oliveros (Deep Listening), R. Murray Schafer (Soundscapes), Kay Gardener (Sounding the Inner Landscapes), Ajahn Amaro (Inner Listening), Thich Nhat Hanh, and Nada Yoga.
Please contact michael@soundoflistening.com with questions.