Our Intensive and Certification programs are facilitated by senior Deep Listening teachers and practitioners, and mentored by Deep Listening workshop and Certification Program co-founders IONE and Heloise Gold. Meet them below!
Deep Listening Mentors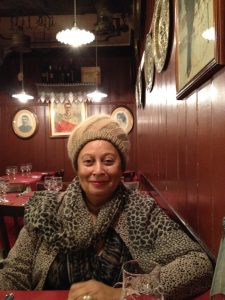 Welcome Dreamers! You probably already know that even if you don't recall your dreams all the time, you're always dreaming! These dreams contain gifts of wisdom and gifts of creativity for us all. I am IONE. I have been called the Dream Keeper for Deep Listeners during marvelous retreats and workshops beginning in 1991 at Rose Mountain Retreat Center exploring the three modalities of Sound, Movement and Dreams with Pauline Oliveros and Heloise Gold. I am lightly "holding the space" for enhanced and harmonious dream awareness for us all. I am honoring the spaciousness and power of an aspect of our lives that has been marginalized in our society.  When we dream together we begin to strengthen our relationships with others. I am so pleased to be in a harmonious Community of Dreamers with you. In addition, as we begin to expand old definitions of the very concept of "dreaming", we begin to lead more authentic lives. Listening in Dreams also allows us to engage in a powerful 24-hour Listening Practice. As a writer/playwright/director and text-sound artist, I'm always integrating my dream awareness into every area of my life. I look forward to playing, learning and listening in many dream spaces with you all!  http://www.ionedreams.us/
A warm welcome to each of you as we embark on our Deep Listening journey together.
Listening with and through my body has been a lifelong passion. I began dancing when I was 4 and haven't stopped. The forms have changed yet the deep pull to allow my body to be a conduit for listening, expressing, performing and playing continues onward.
I am a dancer, performing artist, choreographer and a T'ai Chi/Qi Gong instructor.
I have been the 'movement keeper' for our DL Community during the past 30 years, developing the curriculum for our Deep Listening Body work, facilitating alongside Ione and Pauline for our workshops, retreats and programs. 
I love engaging with groups, sharing healing movement practices, encouraging playful improvisations, and supporting each of us to become friends with our bodies through listening. http://www.heloisegold.com/
Deep Listening Facilitators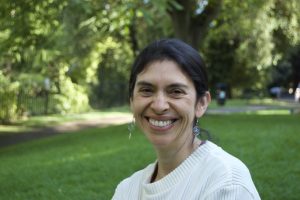 Hola and hello! I listen to my migrations, in search for place and presence, as in-between sonic spaces. I grew up in a quiet neighborhood of an intense South American city: Bogotá – Colombia. The neighborhood was quiet, and the sonic space in my family house was joyful, mediatic, and with traces of country life. I listened to television, music from different generations and Latin regions, the PSHHHtssshtsssffffff of a pressure cooker, barking dogs, chirping canaries, parakeets balancing in a narrow wall walking towards the hot chocolate pan. I keep listening to that house in my dreams, wherever I migrate. Listening in dreams, and telematic sonic performances have become vehicles of these migrations through Deep Listening practice. I became certified in Deep Listening in 2012 with Pauline Oliveros, IONE and Heloise Gold. I collaborated in the foundation of the Deep Listening Certificate Online Training and learnt and taught with them for three years.  In the last two years, I have consolidated an artistic-research work called INTIMAL. This involves relational listening through technological mediations in search of place and presence, and embodied interfaces to freely improvise between distant locations with a virtual listening community of Colombian and other Latin American migrant women in Europe. I look forward to meeting you and listening together. https://www.ximenaalarcon.net/
Greetings! I try to listen to the world always hoping to hear more and more fully. I grew up in the semitropical soundscape of Houston, sojourned in Washington, DC (studying music, theology, and library science) and came to California as a composer in residence at Mills College. I was one of the first class to earn our Deep Listening Certificate in 1998 (wow, last millenium!). I perform using recorder, voice and electronics, teach music at the Bay Area Center for Waldorf Teacher Training, the Deep Listening Certification course though the Center for Deep Listening at Rensselaer Polytechnic Institute, and I'm on the library faculty (subject specialist for performing and visual arts, philosophy, and political science) at Cal State East Bay. With Monique Buzzarté, I co-edited the Anthology of Essays on Deep Listening (2012). I perform with shakuhachi player Nancy Beckman as Gusty Winds May Exist, with David Barnett as the recorder duo Three Trapped Tigers, various other ensembles, and co-founded and direct the Cornelius Cardew Choir. I live with my spouse Nancy Beckman and cat 虎さん (Tora-san) in Berkeley, California. I look forward to listening together!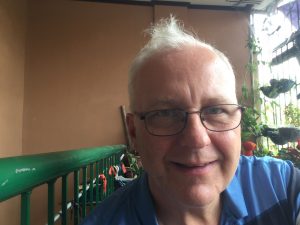 Hello, Björn here! I do love sound in all aspects! Love playing with others, exploring sounds, creating them, listen them, share them. Music and instruments has always appeared as a play for me, the piano we had at home when I was small became a funny toy for me as well as different kitchen utensils. Got a reel-to-reel tape recorder when I was 10 which I played with in many ways. In my teens I started to play with bands when the punk movement was coming along. Later on feeling creatively restricted with my electronic engineering works and was lucky that I could shift into music production/engineering and that got me deeper into listening.  Love of radio, cinema, travelling, teaching/learning, playing and listening together, improvising in music and cooking are big parts of my life. Got in contact with Pauline Oliveros and the network of Deep Listening around 2000. My engagement in the Avatar Orchestra Metaverse and different headphone festivals got me into telematic performance. I got my Deep Listening Certificate in 2015. Looking forward to listen and interact with you all!  http://www.miulew.org/, https://soundcloud.com/miulew/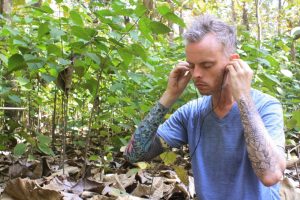 Hello, my name is Michael. Music has been an important part of my life as far back as I can remember. I always followed my own path as an independent musician and composer. Over the years, as I developed a deeper meditation practice I began to see a convergence in my musical and contemplative lives. Through the gift that is Deep Listening and the path laid forth by Pauline Oliveros, Heloise Gold, and IONE, meditation and music have merged into one ever-evolving universe of creativity and exploration. Having dedicated my life to the Art of Listening I now exclusively create ambient soundscapes that incorporate frequencies, field recordings, and music for various levels of consciousness from active listening to deep sleep. I feel music can be a therapeutic and healing form of connection with our inner and outer reality. I am a Certified Music Practitioner offering music for healing to the ill and dying through the Music for Healing and Transition Program. I am also an editor, producer, webmaster with Science and Nonduality, and a composer on a team creating music as psychedelic therapy at Wavepaths. I also host a weekly "mindfulness of sound" meditation group every Friday on Zoom called Sound Sangha. I am listening forward to continuing the ever-expanding journey of Deep Listening with you all!  http://soundoflistening.com/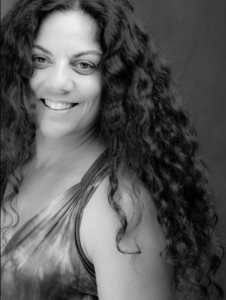 Hello everyone!  So happy to be moving with you this year!  I am an instructor in music education and harp at Lawrence University, on the Smithsonian Folkways committee on music education,  Music Education Curator at the Mile of Music, and mother of three beautiful souls.  I love living and teaching in both worlds of public school and university with kids of all ages. The spirit of Play is at the center of everything I do, and I believe that children are our wisest teachers. I believe that Music Making Is A Birthright and love to create spaces for people to unleash their inner musician and to develop their innate musicianship.  I infuse Deep Listening into all my work with elementary, college, and community students,  and have enjoyed the spaciousness, depth, and warmth of these experiences.  What a privilege to be on this path with you!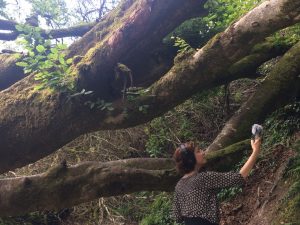 Welcome everyone! I'm a flutist, composer, improviser and an Associate Professor of interdisciplinary musical arts at the University of Colorado, Colorado Springs. My studies/work/life started out in Los Angeles, then onward to Chicago, San Diego, Madrid, New York, Tokyo, Cork, and other extraordinary places. Deep Listening appeared everywhere I went, so it made sense to dive in wholeheartedly. It is a profound honor and gift to be a tutor/facilitator of the Deep Listening Certification program. My work plays with hidden languages, recalls ancestral songs, incorporates playful game techniques, and I often ask performers (and audience alike) to imagine, move and improvise. Dreaming and moving have always been inherent in my work and Deep Listening has given me the access and permission to expand my creative work and teaching in this way. What fascinates me is the global collaborative community we are building, so I am really looking forward to discovering this experience with you all!
Sharon Stewart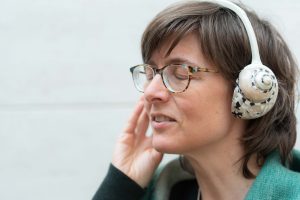 Hello dear listening community. I was born in busy Pasadena in the 70s but grew up in a quiet neighborhood in north Georgia. I remember lying awake at night in bed, listening to the pulsing swells of cricket orchestras, drifting through the long, hot summer evenings. Piano has been my main instrument, with tiny forays into violin and flute when I was younger. I have taught music in Amman and lived in Paris before settling in Arnhem, The Netherlands, and studying at the conservatories in Utrecht (HKU) and The Hague (KC). I attended three Deep Listening Retreats in Ireland, England and Spain from 2008-2010 and had ecstatic listening and community music-making experiences that opened doors to new ways of experiencing and creating sound and music, giving me a new artistic homebase. Electroacoustic composition, Core Energetics, Qigong, Yoga, environmental activism, community-building, and improvisational sounding and movement are part of my life. I'm also associate editor of the Journal of Sonic Studies. Looking forward to listening and moving with you all.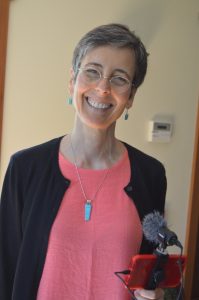 Hello and welcome! I love guiding groups in Deep Listening and improvisation. What a joy to witness playfulness, tenderness, and creativity blossom!
A few childhood listening and sounding memories: a numinous experience of playing sandpaper blocks in nursery school; learning to produce barely-audible multi-phonic squeaks with my lips at age eight; overdubbing grainy, rhythmic sound worlds with two tape decks as a teenager; late-night solo piano improvisations with the lights out.
My first experience of Pauline's Sonic Meditations was when PO visited a composition seminar and led the class in a listening meditation while I was an undergrad studying percussion at UC Santa Cruz in the late 1980s. I've been playing with "remembering to remember to listen" ever since! http://www.jenniferwilsey.com/