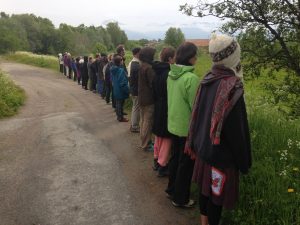 The Center for Deep Listening offers online intensives in Deep Listening® that lead to teacher certification. To receive certification, participants need to pass both Intensive I and Intensive II. Each of the intensives is three months long. During each three-month intensive, classes meet online for approximately two hours each week. Participants are required to attend all classes for the entire three-month period.
Weekly classes are lively! They include group Deep Listening practices, discussion, reflections on the readings, and breakout groups for small group gatherings.
We welcome participants who would like to experience Deep Listening! If you're not interested in being certified, then Intensive I is for you!
Please fill out this application, if you'd like to be considered for the next available Intensive II (we are current accepting applications for 2021).
Intensive I
Deep Listening Intensive I offers an introduction to Deep Listening core principles, practices, and philosophy. Participants develop their collaborative and individual practices through the three modalities: Listening through Sound, Dreaming, and Movement.
A commitment to a daily individual practice – assignments, reading, and journaling – is essential, offering participants the necessary personal insight and growth through the practice.
Participants in past Deep Listening Intensive I courses have found the experience especially satisfying when they are able to spend (at least) 30 minutes per day in a combination of personal practice and journaling and 2-4 hours per month (in total) for reading and writing reflection assignments.
Intensive II
Intensive II focuses on Deep Listening pedagogy. In this course, participants learn the principles and philosophy of teaching the practices of Deep Listening, moving, and dreaming. Prior to the intensive, each participant is required to form a private study group local to their area that they will work with for the three months (without charge).
Successful completion of Intensive II qualifies you to facilitate Deep Listening Workshops.