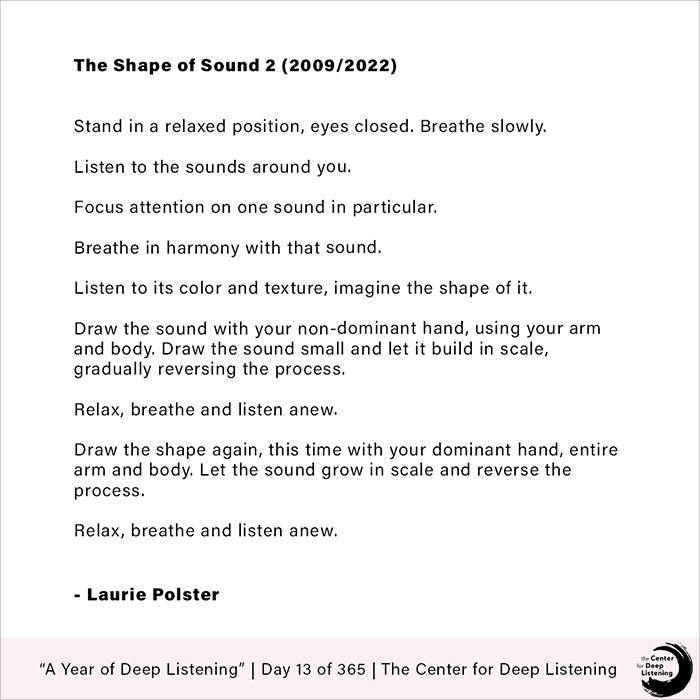 The Shape of Sound, by Laurie Polster
This score is the initial section of longer score, "The Shape of Sound", exploring how drawing sound affects the experience of listening and vocalizing. Visualizing sound working with both sides of the body to kinesthetically experience sound, becomes an avenue for deep listening. The full score continues with slowly vocalizing the sound you've focused on, listening with your entire body, and creating the shape with your voice for as long as possible, building it slowing and bringing it back down to quiet. I composed the full score while studying with Pauline and dedicate it to her.
Laurie Polster is a cross-disciplinary artist, vocalist/musician and composer. Her work in video, audio composition, installation, sculpture, performance, and text pieces reflects her focus on issues relating to culture, memory, and natural phenomenon. Her work is exhibited nationally and held in numerous public and private collections. She's received grants, awards and residencies, including a Jerome Foundation Fellowship and Artist Residencies at Anderson Ranch Arts Center. She holds an M.F.A. in Art from Massachusetts College of Art, and an M.F.A. in Electronic Music from Mills College.