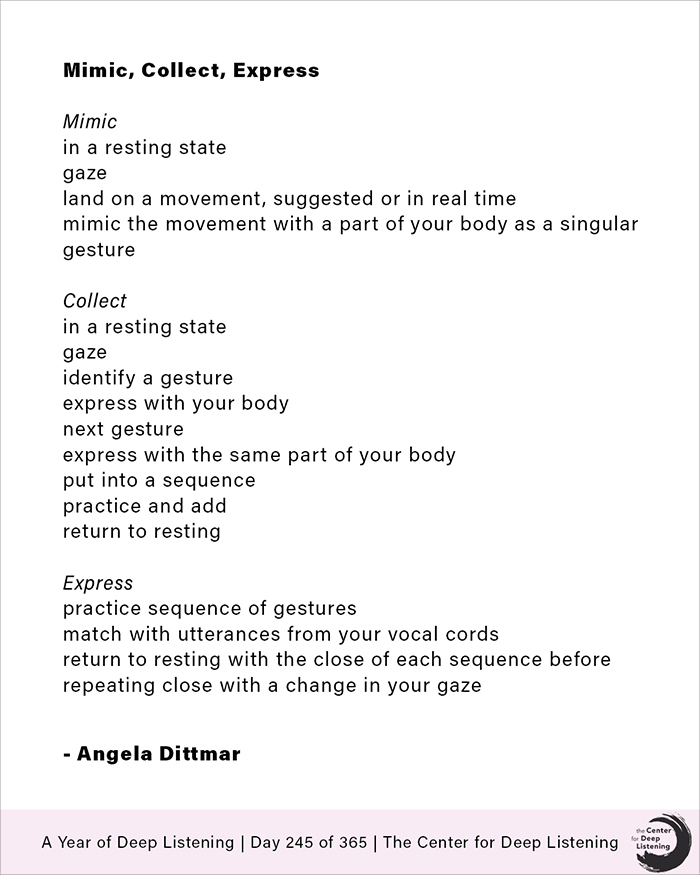 MIMIC, COLLECT, EXPRESS

, by Angela Dittmar

Mimic, Collect, Express is a scaffolded experience in new languages using the environment, body, and sound. The beginner might try this in a sitting position. And might use their hand as the expressive body part. Notes on a movement: This is a visual prompt for movement, which might be suggested by a line, plane, or form within one's gaze. It might also be something moving in real time that has caught your gaze.

Angela Dittmar examines the cross-sections of desire, instincts, and interpretation as related to shaping and responding to our lived experiences. She refers to her research as "Me and the Gazelle." Landmarks in her training and artist career have been graduating with honors in the Master of Fine Arts program at Hunter College, City University of New York, and Bachelor of Fine Art in Painting and Drawing at UTC; having work shown in MassMoca and Hunter Museum of American Art; and resident at Easy Lemon.