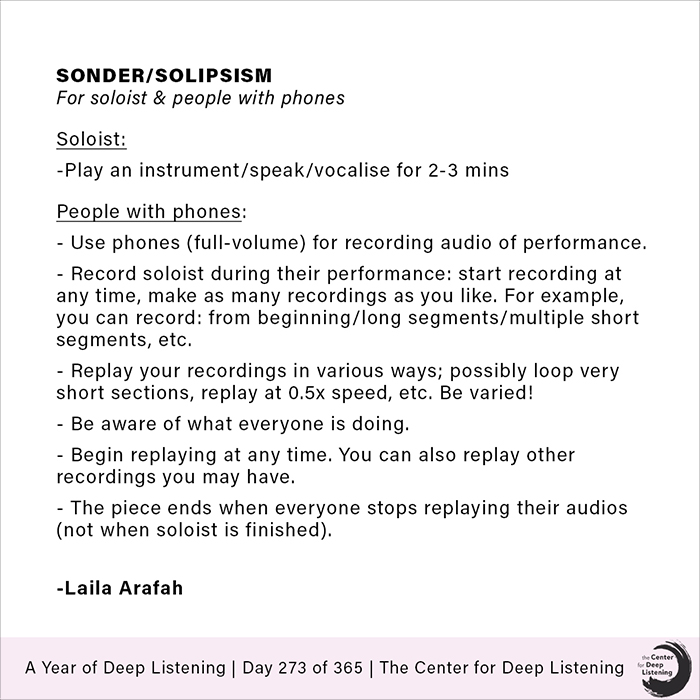 SONDER/SOLIPSISM, by Laila Arafah
SONDER/SOLIPSISM progressively floats in stasis, reframing perspective and memory. This piece tries to capture contingencies exhibited by the performer, until they become expected and anticipated increasingly through stretches of time as a result of selected repetition. After circulating countless times, it eventually comes to a standstill, with the initial notes still ringing in the air.
Laila Arafah's (b.2004) works tend to explore loops, time and space. She studies composition at The Purcell School with Sylvia Lim, Aldeburgh Young Musicians, and Trinity Laban's Junior Department, winning the Junior Trinity Composition Prize in 2021 and in 2022, and 1st Prize in the North London Festival. She attended the Sound&Music Summer School, and CoMA's Midwinter Composer's Course, writing for CoMA String Orchestra. Laila's piece 'Sibelius Studies: For your solo Sibelius' was selected for Score Follower's 2022 call for works. Recently, she's written for the Carducci Quartet, CoMA's catalogue, and London Sinfonietta, as part of JT workshops. Her music has been played at the Chiltern Arts Festival, Purcell school, St Hilda's College (Oxford), Westminster Abbey, Guildhall School of Music and Drama, Trinity Laban, and Snape Maltings.